Features
Why Ride With Us?
---
The Pet Taxi App® has been safely transporting pets since 2O12 and has happily served over 10,OOO pets to date. Our compassionate chauffeurs are trained, vetted, and experienced handlers that are available when you cannnot be. Each vehicle is well maintained, specially equipped with tools for your pet's safety and comfort, climate controlled, and thoroughly sanitized prior to every ride. Trips are GPS-tracked and your pet and home are insured up to $1,OOO,OOO*. While other pet care businesses may offer transportation as a side-gig, our ONLY business is your pet's safe transport to and from their much needed appointments. We offer full customization of your pet's ride and 24/7 telephone support by calling 877-873-7299.
*Subject to terms and conditions of Pet Sitters Associates, LLC
Safety comes first.
Dogs are comfortably secured in a pet-safety seatbelt & personal carriers are required for all other pets. Crates are available upon request; as well as ramps, lifts, and pet gurneys whenever needed.
Trained, experienced, and insured.
Our professional drivers are rated by the pet owners they serve and are held to the highest 5-star standards. We offer assistance with securing your pet into a carrier and can safely lift them when they are unable to mobilize.
24/7 service & support.
Whether your pet needs transport to a vet, specialty clinic, or any other destination, we do our best to be there for you when you need us most. Call (877)873-7299.
Your Pet's Safety & Comfort Are Our Top Priorities. Call 877-873-7299 or Download Now:
How Does It Work?
---
We specialize in private, door-to-door, pet transportation services. You no longer need to worry about getting your pet to the vet, specialty clinic, rehab facility, airport, boarder, or any other destination. Same-day rush services and wedding pet chaperones are also available. Reserve your pet a privately chauffeured ride in less than a minute. Simply call 877-873-7299 to customize or download our app to book. We are available around-the-clock and are now serving Palm Beach County, FL (and surrounding counties), Cook County, IL and Maricopa County, AZ.
Around-The-Clock Service & Support. Call 877-873-7299 or Download Now:
See How It Works.
---
While anyone may be able to drive your pet from point A to B, it is our years of experience, professional training, specialized vehicles and tools, GPS-tracking, and insurance that set us apart from a local dog walker or neighbor down the street. Around-the-clock service & support are offered at 877-873-7299.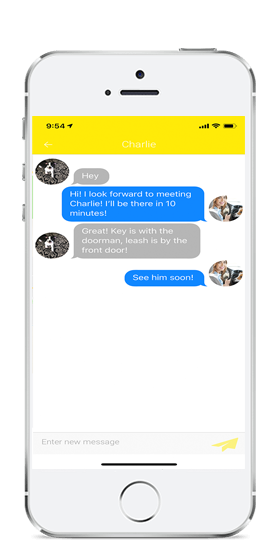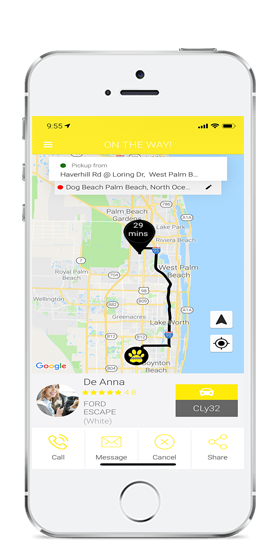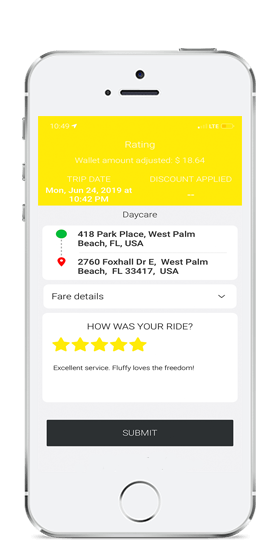 Pricing For A Private Pet Chauffeur Starting At $125/Hour
Straightforward Rates:
**Weekly & monthly membership rates are available.
Same Day & Rush Services Available - Call 877-873-7299 or Download Now:
The Pet Taxi App® makes pet ownership easy, flexible, and fun. I travel most of the year and send Bunny to boarding when I do. They transport her for me - with no stress at all - and I get so much more precious time before take-off.

Sarah McCormick
Fort Lauderdale, FL
When Izzy was sick but I had a meeting I just could not cancel, my friend told me about The Pet Taxi App®. With the click of a few buttons, they saved the day. On-demand service is exactly what my busy schedule needs.

My best friend LOVES his new best friend. He knows the sound of the app when it notifies us that his ride is here and he runs wild with excitement! It's so nice to see him so happy when his driver comes to the door.

Maryam Amiri
Wellington, FL
5-Star Pet Transportation. Call 877-873-7299 or Download Now:
Team
Featured Drivers
---
Meet some of our Pet Professional Drivers.
Morgan Guadis
Since April 2017
I could not be more proud to represent The Pet Taxi App® and our mission to keep pets happy and healthy! Who wants to go for a ride!?

Chrissy Senating
Since June 2017
I talk to every pet. I make sure they know they are safe and loved, and they seem to really get it. Your pet's happiness is my motivation.

Ryan Anderson
Since November 2017
Having the privilege to transport such precious cargo gives me great pleasure and joy. Thank you for the opportunity to care for your pets.
The Nation's Only On-Demand Network of Local Pet Professional Drivers. Call 877-873-7299 or Download Now:
Our Experience:
Est. 2012